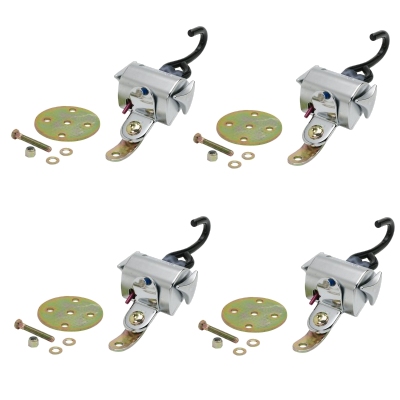 Q'Straint Q-8101-F QRT Deluxe Kit, Mounted for 45 degree Floor Mount Anchorages.  The Q-8101-F is a Fully Automatic, self-tensioning, auto locking, wheelchair tie down system. Like the QRT MAX, the QRT Deluxe was developed and introduced by Q'Straint as one of the most significant enhancements in safety and convenience for wheelchair mobility.
The Q'Straint QRT Deluxe automatic tensioning and locking features will not require the operator to utilize the Dual Tension Knobs for tensioning the wheelchair securement webbing. However, if desired, the QRT Deluxe will provide the operator the discretion of providing additional tension of the webbing by turning the Dual Tension Knobs on the QRT Retractor.
The QRT Deluxe Dual Tension Knobs also eliminate the need for the operator to consider left, right, forward or backward orientation of the Retractor.
The compact design of the QRT Deluxe allows it to fit under many wheelchair footrests and is manufactured with hardened steel and coated with zinc to reduce corrosion.
Q'Straint incorporates a J hook for attaching the webbing to the wheelchair. The J hook attaches to a solid frame member on the wheelchair with a quarter turn reducing the possibility of the webbing binding.  A Foot Release lever will not require the operator to release the QRT Deluxe at floor level.
The Q-8101-F 45 degree Floor Mount Anchorages are permanent mounts and will require the Floor Anchorage to be removed to disengage the Retractor.
The universal design of the QRT Deluxe assures compatability with most wheelchairs and scooters. To ensure optimal passenger safety it is highly recommended that the Occupant Lap and Shoulder Belt be utilized with the QRT Deluxe.
Click here to view more information on the QRT Deluxe
We accept approved Purchase Orders.  Contact our Customer Service Department for quotes on larger quantity purchases.
The Q-8101-F sells for $375.00  and includes FREE SHIPPING.
The Q-8101-L includes the following:
4-Q8-6200-F QRT Deluxe Retractors (45 degree Floor Mount)
1-Instruction Guide for Operator
1-QRT Installation Instructions
1-Warranty Card (3 Year Manufacture Warranty)
Buy
Q'Straint Q-8101-F QRT Deluxe Kit, Mounted for Floor Mount Anchors