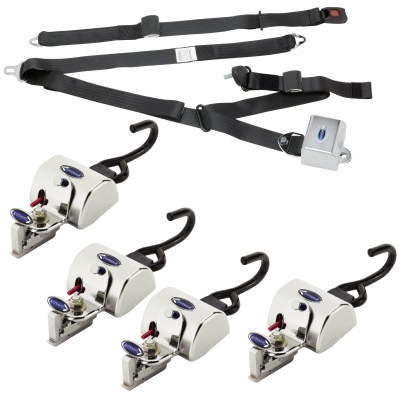 Q-8200-A1-A QRT  Standard wheelchair Securement Kit with Combination Occupant Restraint Lap and Shoulder Belt. The Q'Striant QRT Standard Semi-Automatic wheelchair securement system incorporates many of the safety components and efficiency build into the QRT MAX and Deluxe but deliver these at more budget friendly price.
The QRT Standard uses a single tension knob to tighten the wheelchair securement webbing once attached to the wheelchair. This design eliminates the Retractor orientation confusion of left, right, forward or backward. The low profile and compact design allow many wheelchair footrests to navigate over the QRT Standard Retractor without restriction. The QRT Standard is built with durable hardened steel and coated with zinc to resist corrosion.
The QRT Standard uses a J Hook for attachment of the webbing strap to a solid frame member on the wheelchair. The J hook will only require a quarter turn for attachment and will reduce the possibility of the webbing binding. The wheelchair securement webbing will release with the depression of the foot lease lever and will not require the operator to bend down to the floor.
The Q-8200-A1-A Sells for $370.00 and includes FREE Shipping
The QRT Standard is available in PLI L-Track, Slide-N-Click, A-Track and Floor Mount options and vehicle applications in Transit and ParaTransit, Community Transport, School Bus and Mini Bus and Mini Van.
Click Here for More Information on the Q'Straint QRT Standard
In order to ensure passenger safety, an occupant restraint lap and shoulder belt should be utilized. Q'Straint provides a variety of options in Combination Occupant Restraint and Regular Occupant Restraint. For Occupant Restraint Options Click Here.
The Q-8200-A1-A  is designed to operate with A-Track Floor Anchorages and includes a Combination Retractable Occupant Restraint Lap and Shoulder Belt.  The Q-8200-A1-A will not include the Vehicle A-Track Floor Anchorage. This kit includes the following:
4-Q8-6201-A QRT Standard Retractors (A-Track)
1-Q8-6326-A1 Combination Occupant Restraint Lap and Shoulder Belt
1-Instruction Adhesive Label
1-QRT Installation Instructions
1-Instruction Guide for Operator
1-Warranty Card (1 Year Manufacture Warranty)
Buy
Q'Straint Q-8200-A1-A QRT Standard Kit with Combination Occupant Restraint Lap and Shoulder Belt, A-Track