Q'Straint Products Ships for Free with Transfor.  We provide our customer's with the best prices on the internet and ship every Q'Straint product for free. We are one of the largest authorized US Dealers of Q'Straint equipment and have been servicing our customers with 100% satisfaction for over a decade. We provide the discount prices on all Q'Straint wheelchair tiedown and occupant restraint equipment and ship our product for free UPS Ground Service.
Every QRT MAX, QRT Deluxe, and QRT Standard wheelchair securement Kit or individual retractor ships UPS Ground Service to our customers with no minimum order requirements.  We will gladly provide quotes or UPS Next Day, 2nd and 3rd Day services upon request.
Q'Striant was the first company to develop the Automatic Retractor wheelchair tie down system and has consistently lead in innovations that maximize safety and convenience.  The QRT Wheelchair Securrment systems are equipped to operate in variety of floor anchorages including L-Track, A-Track and Slide-N-Click.  Every QRT Retractor is manufactured with case hardened steel and applied a zinc coating to enhance durability and resistance to corrosion. The Foot Release Lever on the QRT Retractor allows the operator to release the tension to easily disengage the S Hook Attachment from the wheelchair without bending down.
Both the Q'Striant QRT MAX and QRT Deluxe are fully automatic and will not require the operator to manually tension the wheelchair tie down straps after the S Hook has been properly secured to the wheelchair. However, the QRT Deluxe dual tension knobs that allow the operator to additional discretionary tensioning if desired.  The QRT Standard is a Semi-Automatic Retractor that incorporates many of the features of the QRT MAX and QRT Deluxe and may be an option for those in need of addressing a more budget sensitive price point.
Our customer service team is available 24/7 to discuss options and address the needs of our customers.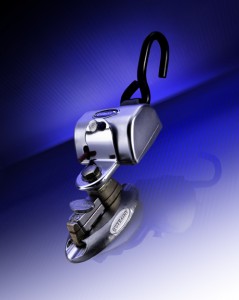 Buy
Q'Straint Free Shipping