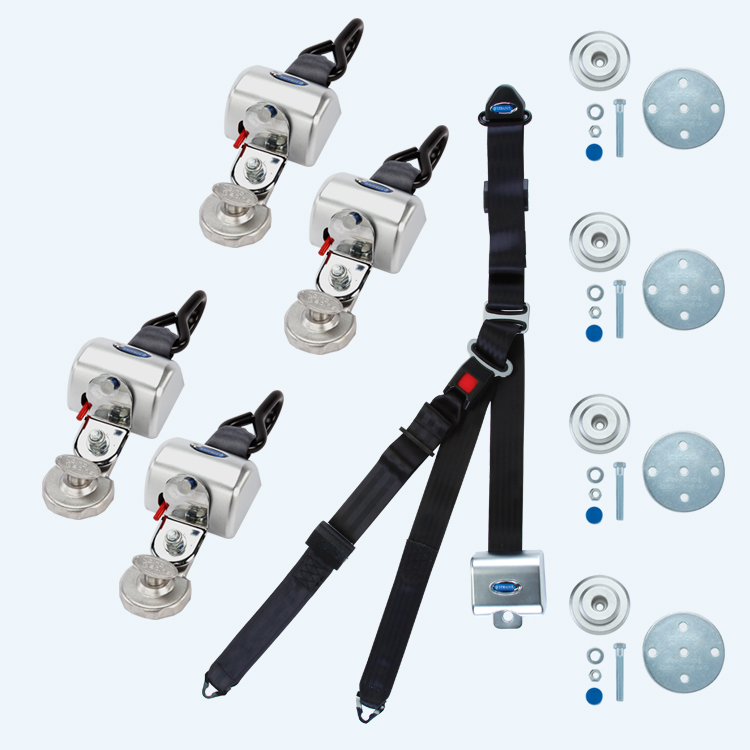 The Q-8300-A1-SC  QRT MAX is a fully automatic, self tensioning and automatic locking wheelchair tiedown system with combination Occupant Restraint Lap and Shoulder Belt. The Q-8300-A1-SC is mounted for Slide-N-Click Floor Anchorages that are fixed point floor anchorages and easily connect to the Bottom Anchorages on the vehicle floor and will allow the  Retractor rotate 360 degrees.
The Q'Straint QRT MAX automatic tensioning and locking features eliminate the need for the tensioning knobs and the need for additional tensioning of the webbing straps.  The operator or occupant will move the wheelchair in a slightly forward and backward direction to tighten the webbing.
No Knobs also addresses any confusion with left, right, rear, and front orientation of the QRT MAX Retractor and removes the potential for the knobs to interfere with wheelchair wheels and footrest.
The Foot Release lever will not require the operator to release the QRT MAX at floor level and the J hook attaches to the wheelchair with a quarter turn reducing the possibility of the webbing binding.  The QRT MAX is manufactured with hardened steel and a zinc coating is applied to reduce corrosion.
Click here for more information on the QRT MAX
The Q-8300-A1-SC Sells for $582.95 and includes free shipping
The Q-8300-A1-SC Retractors provided in this Kit are mounted for Slide-N-Click Floor Anchorages. This Kit will include the Bottom Slide-L-Click Floor Anchorage. This kit includes the Following:
4-Q8-6209-SC 4-QRT MAX Retractors (Slide-N-Click)
1- Q8-6326-A1 Combination Occupant Restraint Lap and Shoulder Belt
4-Q8-7580-A Bottom Slide-N-Click Anchorages
Instruction Adhesive Label
QRT Installation Instructions
Instruction Guide for Operator
Warranty Card (3 Year Manufacture Warranty)
Buy
Q'Straint Q-8300-A1-SC QRT MAX Kit with Combination Retractable Lap and Shoulder Belt, Slide-N-Click