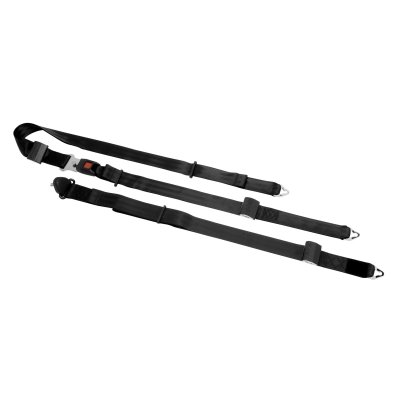 The Q'Straint Q8-6325-AT Ship for Free with Transfor and is the Q'Straint QRT Regular Lap and Shoulder Belt with L-Track Fitting on Shoulder Belt for Attachment. The Shoulder Belt will attach to an L-Track Anchorage on the Vehicle Wall.  The QRT Lap Belt will be positioned around the passenger's pelvic area and attaches to the Pin Connectors located on the rear QRT Retractors.  The Shoulder Belt attaches to a pin connector on the Lap Belt.
Click Here to View Animation of the QRT Lap and Shoulder Belt
Q'Straint provides customers with a wide assortment of occupant restraint options that allow our customers to select the best choice for the passenger and vehicle layout.  A Lap and Shoulder Belt are vital in ensuring the safety of your passenger; securing the wheelchair alone will not guarantee the safety of your passenger.
The Q8-6325-AT sells for $86.00 and includes FREE Shipping
The Q8-6325-AT includes the Following:
Q8-6325 QRT Lap Belt

Q5-6410-T-BLK Shoulder Belt (L-Track)
Checkout our unbeatable prices and take advantage of Free Shipping
Buy
Q'Straint Q8-6325-AT Regualr Lap and Shoulder Belt with L-Track Fitting for the Shoulder Belt