Transfor Corporation is one of the largest US Dealers of Q'Straint Wheelchair Tiedown Systems and provides free shipping  and the most competitive prices on all of the Q'Straint products that we sell.  Q'Straint Wheelchair Tie Down Systems are available in Fully Automatic and Self Tensioning Wheelchair Restraint like the QRT MAX and QRT Deluxe as well as a Semi-Automatic Retractor Systems like the QRT Standard.  The QRT MAX, QRT Deluxe and QRT Standard are all available to secure with L-Track and A-Track Floor Anchorages as well as the increasingly popular Slide-N-Click Floor Anchorage.
Fully Automatic Wheelchair Tie Down Systems like the Q'Straint  QRT MAX and the QRT Deluxe allow the operator to attach the J Hook to the solid Frame Member on the Wheelchair without the added effort of manually tensioning the Wheelchair Strap.  Automatic Tensioning Retractors also provide a degree of added security and safety by adjusting to any wheelchair securement slack created in vehicle movement.
A Semi-Automatic wheelchair tiedown system like the Q'Straint QRT Standard is vastly more efficient over the more labor intensive manual wheelchair securement systems.  The QRT Standard incorporates many of the same features and benefits of the Q'Straint QRT MAX and Deluxe but will require the operator to turn the single tension knob on the retractor.
For those that are faced with strict budget constraints, Q'Straint manufactures the M Series Manual Wheelchair Tiedown System.  The Q'Straint M Series Address budget without compromising safety and have been crash tested and meet FMCSR requirements.
Click Here to Check Our Unbeatable Store Prices and Take Advantage of Our Free Shipping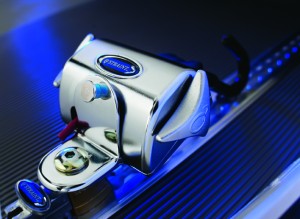 Buy
Q'Straint Wheelchair Tiedowns