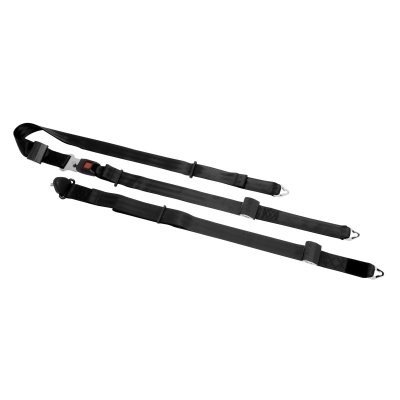 Q8-6325-A QRT Regular Occupant Restraint Lap and Shoulder Belt.  The Q5-6410-BLK (included) attaches to the vehicle wall with the Q5-6500A-5 Shoulder Belt Mounting Bracket (included).  The Q5-6325 Lap Belt (included) will Attach to the Pin Connectors on the rear QRT Retractor.
Q'Straint provides customers with a wide assortment of occupant restraint options that allow our customers to select the best choice for the passenger and vehicle layout.  A Lap and Shoulder Belt are vital in ensuring the safety of your passenger; securing the wheelchair alone will not guarantee the safety of your passenger.
Distinctive passenger characteristics such as height, length, and weight will fluctuate.  Q'Straint embraces the importance of delivering an array of occupant restraint options that address the individuality of the passengers that we serve.  Customers have a full range of options in Combination Retractable Occupant Restraint belt systems, Regular Lap and Shoulder Belts and individual belt component systems.
Correct positioning of the lap and shoulder belt is essential in assuring passenger safety. The operator's ability to adjust the height of the shoulder belt to conform to the passenger is both comforting and reassures passenger safety.
Q'Straint manufactures and extensive selection of occupant restraint lap belts that afford options in terms of user preference, wheelchair tie down conformity, and anchorage installation and configuration. The Lap belt, positioned snugly around the passenger's pelvic area, can be purchased in a variety of lengths and may be augmented with lap belt extensions if necessary.
Parallel Lap Belts will attach directly to the L-Track or A-Track Floor Anchorage and are independent of the wheelchair tie town system.  Integrated Lap Belts will attach to the real wheelchair town strap and are typically a more efficient method for securing the Lap Belt.  QRT System Lap Belts will attach directly to the Pin Connector located on the Retractor.
The Q8-6325-A Sells for $77.00 and Includes Free Shipping
Click Here For More Information On Q'Straint Occupant Restraints
The Q8-6325-A Includes the Following;
Buy
Q'Straint Q8-6325-A QRT Regular Lap and Shoulder Belt