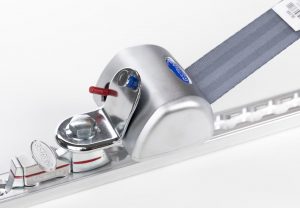 Wheelchair transportation has evolved over the last 50 years from basic manual wheelchair securement straps to sophisticated electronic systems that has vastly improved passenger safety.
While manual wheelchair securement systems are still utilized today the preferred style are Retractors Systems. Retractor Systems are easier and more efficient in attaching the securement straps to the wheelchair and are available in Semi-Automatic and Fully-Automatic designs.
Fully-Automatic Retractor Systems allows the webbing to extend from the Retractor to attach to a solid frame member on the wheelchair. The remaining webbing slack will automatically retract and lock to restrict wheelchair movement. While in transit, any shift of movement in the wheelchair that could create slack in the webbing would be addressed in the auto-tensioning feature of the Fully-Automatic Retractor.
Semi-Automatic Retractor Systems incorporate many of the same efficiency features of the Fully-Automatic System but will require the operator to physically tension the securement webbing via a conveniently positioned knob on the retractor.
Manual Securement Straps remain an option that address stick budgets without compromising safety. The webbing attaches to the wheelchair with either an S-Hook or Snap Hook and D-Ring and the slack is manually addressed with Overcenter Buckles, Cams or Ratchet Assemblies.