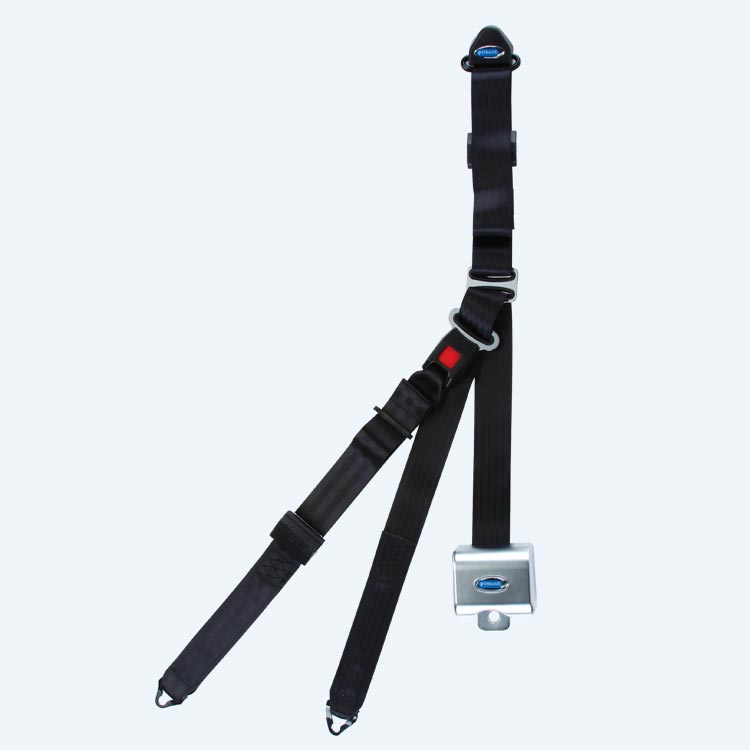 The Q'Straint Q8-6326-A1 is a Combination Occupant Restraint Lap and Shoulder Belt.  This product is designed to work in conjunction with the Q'Straint QRT MAX, Deluxe and Standard Systems.
The "triangular fittings" on the Q8-6326-A1 attach to the "pin connector" or studs on the reat QRT Retractors. The Q8-6326-A1 utilizes one retractor positioned on either the lower wall or floor.
The Occupant Restraint System is a vital component to Wheelchair Transportation Safety. Securing only the wheelchair without a Lap and Shoulder Belt will potentially leave the passenger vulnerable to risk of a serious accident. With much of the attention of wheelchair tiedown systems focused on w securement of the wheelchair the occupant restraint is often overlooked. Occupant restraints are not ancillary to wheelchair securement they are, in fact, the most the most critical component of wheelchair securement operations.

Transfor Corporation distributes a comprehensive line of Q'Straint Occupant Restraints supporting their QRT and M Series Systems. These occupant restraints range from the combination lap and shoulder belts to parallel / integrated lap belts and shoulder belts. 
Distinctive passenger characteristics such as height, length, and weight will fluctuate.  Q'Straint embraces the importance of delivering an array of occupant restraint options that address the individuality of the passengers that we serve.  Customers have a full range of options in Combination Retractable Occupant Restraint belt systems, Regular Lap and Shoulder Belts and individual belt component systems.
Correct positioning of the lap and shoulder belt is essential in assuring passenger safety. The operator's ability to adjust the height of the shoulder belt to conform to the passenger is both comforting and reassures passenger safety.
Q'Straint manufactures and extensive selection of occupant restraint lap belts that afford options in terms of user preference, wheelchair tie down conformity, and anchorage installation and configuration. The Lap belt, positioned snuggly around the passenger's pelvic area, can be purchased in a variety of lengths and may be augmented with lap belt extensions if necessary.
Parallel Lap Belts will attach directly to the L-Track or A-Track Floor Anchorage and are independent of the wheelchair tie town system.  Integrated Lap Belts will attach to the real wheelchair town strap and are typically a more efficient method for securing the Lap Belt.  QRT System Lap Belts will attach directly to the Pin Connector located on the Retractor.
The Q8-6326-A1 Sells for $120.00 and Includes Free Shipping
The Q8-6326-A1 Includes the Following;
Buy
Q'Straint Q8-6326-A1 QRT Combination Lap and Shoulder Belt