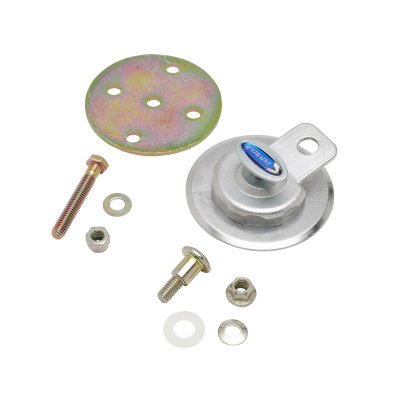 Q'Straint Q8-7583-A Ships for Free and is a Slide-N-Click Retrofit  with Top and Bottom Assembly. The Q8-7583-A Replaces the Q5-7560-5A Floor Pocket.  The Q-5000 Floor Pocket is removed from the vehicle floor and the Q8-7583-A is positioned in the vacated floor pocket hole.
The Q'Striant Slide-N-Click is one of the most advanced innovations in Fixed Wheelchair Securement Anchorages and allows for a 360 degree rotation of the QRT Retractor with one hand operation.  The Slide-N-Click bottom Anchorage is installed with a single bolt and reduces a complicated installation and alignment process.  The low profile design of the bottom anchorage allows the wheelchair to easily maneuver around or over it without impeding movement. The Slide-N-Click in manufactured with cast stainless steel for maxim durability and strength.
Q'Straint manufactures a variety of Wheelchair Securement Floor Anchorage options to address any securement circumstance or challenge. A fixed wheelchair tiedown option such as Slide-N-Click, A-Track and L-Track Floor Pockets provide a predetermined station for the wheelchair and minimizes the opportunity for improper placement. Fixed Securement Anchorages are ideal in situations where a single type or style wheelchair will be secured.  A flexible Securement option such as L-Track and A-Track allows the operator variable options for the wheelchair position and more adaptability in accommodating various style wheelchairs. Flexible Securement options are ideal where the operator will be accommodating various style and type wheelchairs.
The Q8-7583-A includes the following:
Q8-7583-A Slide-N-Click Retrofit Top and Bottom Assembly
Checkout our unbeatable prices and take advantage of our Free Shipping
Buy
Q'Straint Q8-7583-A Slide-N-Click Retrofit